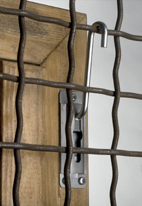 Application
FHS- The Flexible Hanging System, is a hanging system which is mounted on the back of the artwork frame, and replaces screw loops with wood screwthreads and many other functions which normally require several separate parts. FHS is developed to fulfil the requirements placed for hanging and securing of artworks. The following possibilities are available:
Step-free adjustment of height
Hanging on wall hooks
Hanging on swings
Hanging in art depositories
Theft protection (Accessories)
Transport in transport frame (Accessories)
Packaging bracket for transport (Accessories)
Target Group
FHS has been developed for collections where artworks alternately hang in exhibition, art depository or out on loan. The FHS system protects artwork frames and ensures secure transportation and exhibition of paintings.
Description
FHS consists of a profiled bottom plate with an adjustable runner with metric thread. The plate is screwed onto the artwork frame. Screw loops, depot hooks or theft protection is screwed into the runner. Joints are welded for greatest possible durability. Surfaces are polished to a matt, reflex-free finish. All accessories can be mounted on the bottom plate. The bottom plate's hole pattern enables flexible placing of screws. FHS is mounted with three screws included in basic package.
Material
The bottom plate is manufactured in rust-free sprung steel. Screw loops aer manufactured in industrial steel and are chromed.
Sizes
| Model | A | B | C |
| --- | --- | --- | --- |
| FHS 2 | 70 | 25 | 35 |
| FHS 3 | 95 | 37 | 50 |

Delivery
FHS is delivered in basic package with mounted screw loop and two different lengths of wood screw. A depot hook is included in the package. FHS is flat-packed in plastic bags.

Accessories
As a complement to the Basic Package, there is a series of accessories making FHS compatible with all situations and simplifying handling, at the same time enhancing security for hanging and exhibiting.
Theft protection
When FHS Theft Protection is used, the painting is hanging on wood screws fixed in the wall. FHS Theft Protection consists of two components:
Theft Protection screws
Tool for theft protection screws

Application
Replace screw loop with a theft protection screw.
Push down FHS runner to lowest position.
Use Bottom Plate's ""Keyhole Profile"" to hang painting on screw head.
Push up runner
Tighten screw with theft protection tool.

Packing bracket
The screw loop is made especially for the FHS system, and it is therefore important always to include the screw loop when, for example, loaning to other museums. The packaging bracket consists of two components in sprung steel which are mounted without extra screws in the FHS bottom plate. The powerful sprung steel and a centred plastic jacket ensure that the screw loop is transported securely without loosening or rattling. The packaging bracket is available in all FHS sizes.

Marking pin
The marking pin is an accessory to simplify the placing of wall hooks. The marking pin is screwed into the runner, the artwork is then lifted into position. With a light pressure, the place for the wall hook is marked without wasting time measuring distances between hooks. The marking pin is available in all FHS sizes.

Mounting
The FHS can be used to exhibit art in various ways. In most cases, museums choose to present paintings to hang largely parallel with the walls. In such an exhibition, the FHS is mounted on the artwork frame's upper quarter. This placing is also suitable when FHS is used with transport securer (see Accessories).
In older galleries, with reconstruction of historical settings, the FHS is placed somewhat lower so that the painting can lean more. If the wall hooks are replaced by swings, the effect is still further enhanced. Irrespective of whether swings or wall hooks are used, the FHS can always be adjusted in height afterwards for aesthetic hanging. Large, modern paintings without, or with very narrow frames, are most suitably hung in an FHS mounted as high as possible, then hung on a screw head placed into the FHS profile's ""keyhole"".
No matter which mounting is used, the mounting must always take place in healthy, undamaged timber and never directly into the frame's corner fittings. Use Temart's tested quality screws and use the correct screw length for the frame profile. Screws included in the basic package are compatible with the Pozidriv standard (PZ).
Summary
FHS
| Art. Nr. | Product |
| --- | --- |
| 20-000 | FHS 2 Basic Package |
| 30-000 | FHS 3 Basic Package |